AHOY - ROTTERDAM
BURNA BOY INFORMATION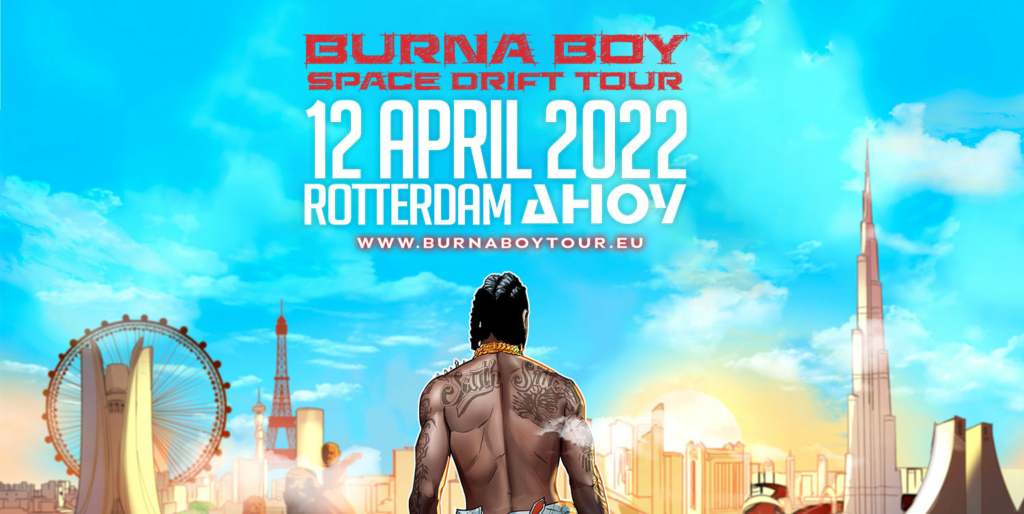 Tickets
We've strongly recommended everyone to only purchase tickets through our official ticket sales channel, CM.com. We cannot guarantee the authenticity of tickets purchased from unofficial resellers. Buying tickets from a third party is at your own risk.
If you've lost your tickets and bought them through CM.com, please contact support@cmtickets.com and they will help you by getting your tickets.
If you've bought your tickets from a third party, you will have to contact the company where you bought your tickets.
There's a difference between a regular standing ticket and a Golden Circle ticket. With a regular standing ticket you'll get access to the regular standing places. 
With a Golden Circle ticket you'll get access to a separate section that is in front of the audience against the stage. 
Time
The doors will open at 18:30 and will be open all evening. You're allowed to enter the venue at all times. The event starts at 19:00 and will end at 23:00.
Parking
Rotterdam Ahoy has 2,000 parking spaces. It is possible to buy a parking ticket in advance to be sure of a parking space on event days. For €18,- you are assured of a parking space right next to Ahoy, without a parking guarantee you'll pay €14,-
If the parking space is full but you pre-purchased a parking with warranty, you can show this to the traffic controller and you'll gain access.
If the parking lot is full and you don't have a pre-purchased parking ticket with warranty, you can park at the Q-park Zuidplein or another parking facility in the area.
Lockers and wardrobe
There is a manned wardrobe where you can store your coat at a rate of €2.00 each. Lockers are also available.
Accessibilty for disabled visitors
There are parking spaces for disabled visitors in the large car park, which are located right next to the main entrance. 
In Ahoy and in the Ahoy Arena there are lifts to all levels. Toilets are adapted and equipped with an alarm. You can also borrow a wheelchair on presentation of identification at the porter's lodge.
Each disabled visitor can take a seat on the wheelchair platform together with one able-bodied person. This person is primarily responsible for the well-being of the invalid. The accompanying person must also be in possession of an access card.
There will be earplugs for sale at all bars in Ahoy. These earplugs fit in every ear and you will be protected against loud noises or music.
Payment methods
Ahoy only accepts PIN or credit card payments.
Event
The minimum age for this event is 14 years old. Anyone younger than 14 will be declined at the entrance.
It's not allowed to bring the following items inside the venue:
Self-brought drinks and food;

Large and clumsy objects such as suitcases, backpacks and bags with a size lager than A4 and thicker than 10 cm;

Dangerous objects, including knived, glass and/or cans, weapons, soft and hard drugs and alcohol;

Toxic, slightly flammable or slightly explosive materials and fireworks;

Animals and pets;

Banners, cardboard/paper signs with inscription (up to a maximum of A4 Is allowed), flags or flagpoles thicker than 2 cm and longer than 1.5 meters

Selfie sticks and professional photo, video and audio recording equipment;

All other matters that may pose a danger to health, safety and public order.
Cameras and camera lenses that could obstruct the lines of sight of other visitors are absolutely forbidden.  Professional photo, audio, image and other (recording) equipment are not allowed due to image rights. If your camera is taken by security staff upon arrival, you can pick it up after the show. 
It is prohibited to use the image and/or sound recording for anything other than private use. 
Smoking in Ahoy is prohibited. Smoking is only allowed in designated smoking areas.