BURNABOY
FRIDAY 25 FEBRUARY 2022 | AHOY ROTTERDAM
Friday, 25 February 2022
Ahoy Arena – Rotterdam
Doors: 18:30 hrs
Minimum age: Access only for visitors 14 years or older.
Line up: Burna Boy, more tba
Tickets start at €45,- (including service costs)
AHOY is easily accessible by public- and own transport. It's a 5 minute walk to the entrance of Ahoy from Zuidplein Station. You can park at the parking lot of Ahoy.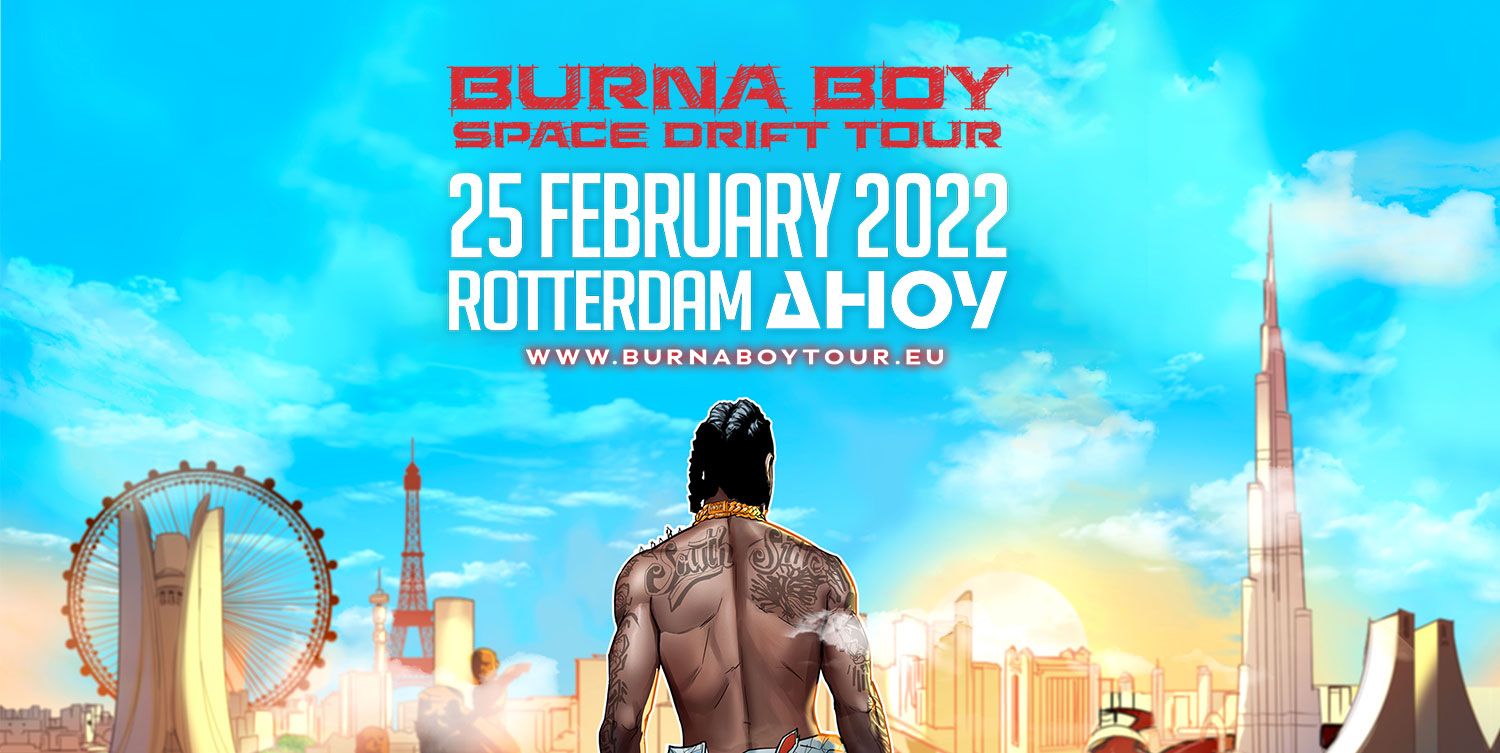 "Rotterdam, be ready! Burna Boy is coming to Ahoy! The old date of this show was November 20th, 2021, but this show had to be postponed to February 25th, 2022. Keep your tickets, they remain valid for the new date!"
If you can't attend the event on the new date and bought your ticket through our official ticket partner CM.com, you can request a refund via the link below. Keep in mind that you can request your refund till December 5th 2021.
https://cm.to/pYRSjVC
❗️
Volgens de huidige wettelijke regelgeving is het bij dit evenement verplicht om naast een geldig
ticket, ook een coronatoegangsbewijs via de CoronaCheck-app te tonen aan de ingang.
Dit kan een vaccinatie- of herstelbewijs zijn, of een negatieve testuitslag. In geval van het laatste kunnen
bezoekers een gratis testafspraak inplannen via testenvoortoegang.org. Dit kan een testlocatie
dichtbij jouw woonadres zijn. Na afname van de test ontvang je binnen een uur de uitslag en op
vertoon van een negatieve testbewijs krijg je vervolgens toegang tot de zaal. Je test mag maximaal
40 uur oud zijn.
Mag de regelgeving in de toekomst veranderen dan worden alle kaartkopers daarvan via de mail op
de hoogte gehouden.
Corona gerelateerde maatregelen
Wij volgen ten alle tijden de restricties vanuit de Rijksoverheid en de richtlijnen vanuit het RIVM. Wil je zeker weten dat je op de hoogte bent van de meeste actuele regels en/of richtlijnen? Klik dan hier